Australia's only fibreglass furniture specialist
The Funky Furniture Factory
Fibreglass indoor/outdoor furniture in Australia
Fibreglass indoor/outdoor furniture in Australia
Amboyna Timber indoor/outdoor benches
Traditional/upholstered furniture
Our Unique Products –
You wont find 98 % of these products anywhere else in Australia
Why Should You Use Fibreglass Furniture?
During the 1930's and the 1940's a significant amount of research was undertaken in creating and using fiberglass .
The first mass produced chairs using this highly moldable tactile material was in 1950. This produced a practical, robust design that was easy to clean and suitable for both indoor and outdoor locations.
Fibreglass reinforced polymer allows a myriad of colors to be used in the manufacture of any product.
Why The Funky Furniture Factory Should be Your First Choice?
Our fibreglass outdoor furniture products can be used both inside and outside to great effect.
We have an enormous range of products from Cobblestone and single seats to large benches, tables and chairs, bar stools, sofas, reception desks, sun lounges, planters, pots etc. Well over 300 individual items.
These are all backed by our 5 year warranty. In addition to this should you require a special design we will work with you to bring your dream to reality.
FRP structures have strong corrosion resistance, great integrity, and superb thermal insulating features. They stand up well to high temperatures, alkalis, salts and oils. FRP's are currently used in the aerospace , automotive, marine and construction industries. Even in ballistic armour.
Our manufacturing partner has the ISO 9001 TUV quality control system in place This means that all products are checked at various stages of manufacture and if any fault is found they are rejected They have a 30,000m2 Factory so they are capable of manufacturing anything in fiberglass.
9 Benefits you receive when you purchase Fibreglass Furniture
Fibreglass Furniture is made of a composite material formed from fibres of spun glass mixed and held together with resin. Often it is referred to as FRP or fiberglass reinforced plastic. The furniture is manufactured using the following process The resin is mixed and poured into the mould then brushed on the mould walls. Then sheets of fiberglass are placed in the mould over the resin layer to give the furniture structure. lt is then that a chemical reaction takes place. The fiberglass and the resin heat up and harden. This creates a product of immense strength with similar properties to steel but at only a quarter of the density.
Lightweight

Compared to timber, metal or concrete furniture fiberglass is very lightweight. This means that items such as bench seats can be easily relocated from indoors to outdoors or wherever you need them.
Strength

FRP has the properties of steel at25% of it's weight. It has a high strength to weight ratio. They use fiberglass reinforced plastic in the production of pedestrian bridges and cantilever walkways so it must be strong to stand up to those forces.
Corrosion Free

FRP is resistant to splinter and rot. Fibreglass is also shatterproof, resistant to salt, mold ,mildew and frost therefore you can leave our furniture outdoors It will keep on going virtually forever always looking great.
UV & Fire Resistant

The furniture won't be affected by UV rays. You will never need to worry about the colour fading. Glass fibre reinforced plastic has great fire resistance as well.
Easily Cleaned

They really don't require maintenance Just a wipe over with a damp rag or maybe some light detergent will bring backtheir shiny appearance.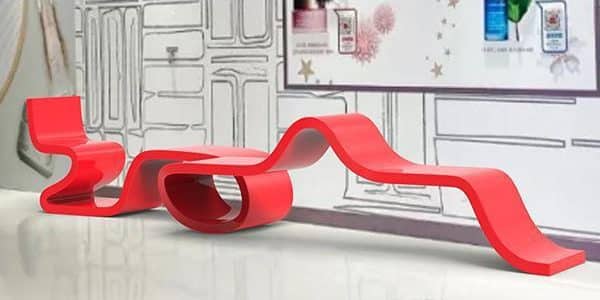 Safe & Non Toxic

Plastic furniture's manufacture when coloured pigment is mixed with plastic can be toxic. Automotive paint and glaze are applied to the outer surface of FRP furniture making it totally safe.
Recyclable & Highly Sustainable

Fibreglass Reinforced Plastic or FRP can be recycled. Varied techniques can be implemented to develop different components. These products can be formed by making use of recyclate material that is generated by crushing the composites
Stylish and Elegant

FRP furniture will perfectly complement your surroundings. Colours can be used to complement or contrast with your decor. Fibreglass can be made to mimic all sorts of materials. They can be made to look like timber, stone, timber or whatever materialyou choose . lf there isn't something in our extensive range then give us a call and we will see if we can create it for you.
ISO 9001 & Bureau Veritas

All of our products are manufactured under the international quality control process ISO 9001 .That means that every piece is thoroughly inspected at various stages during the production process If any unit doesn't meet the standard it is rejected and junked. Bureau Veritas has been appointed by us to provide final inspection reports on all items leaving the factory thus ensuring that the products will arrive exactly as you would expect
Receive our complete catalogue
Over 300+ unique products only from Funky Furniture Factory